Cresswood, an American made industrial shredders company, is committed to providing and maintaining a safe work environment for all employees. Along with focusing on increasing productivity and efficiency through the IMEC 5S program, we have also developed a job safety and health program has been developed to protect all of our employees and to ensure compliance with federal, state, and local regulations and client rules. Every Cresswood employee shares the responsibility of maintaining a safe and healthy workplace and performing his or her duties in a safe manner.
Putting Safety First When Working with American Made Industrial Shredders and Grinders
All Cresswood employees and visitors are required to wear safety glasses at all times in the production areas. The company offers employees an annual safety glass program that will pay for examinations and safety glasses with certain frame configurations.
Employees of Cresswood who work in production areas are required to wear safety shoes that meet or exceed ANSI Z41-1991 American National Standard for Personal Protective Footwear Standards.
We have some employees that have been with Cresswood for more than 20-30 years. Sometimes, when you have been at a job or a location for that long, you tend to get comfortable. But as a world class industrial grinder and shredder company, we strive to continue to foster a culture of constant improvement. One of the main things that we want to focus on as we continue to build a strong workforce is the fact that we are keeping up with safety standards so that things don't fall through the cracks as our team gets comfortable in our roles.
The Cresswood team members are continuously renewing their forklift certifications and rigging certifications. And during the month of May, we took our health and safety compliance two steps further.
CPR and AED Certified Through Onsite Training
As a world class grinders and shredders company, we take training very seriously. As part of our planned training, we had a representative from Cintas come in and assisted the entire office and shop to become CPR and AED Certified. This allowed our team to gain confidence and a critical understanding of how to react in an emergency situation, when to administer aid, and what to do when an emergency occurs. The training included hands-on instruction with engaging training from instructors certified by the American Heart Association. The 1:1 student-mannequin ratio allowed for personalized instruction and feedback.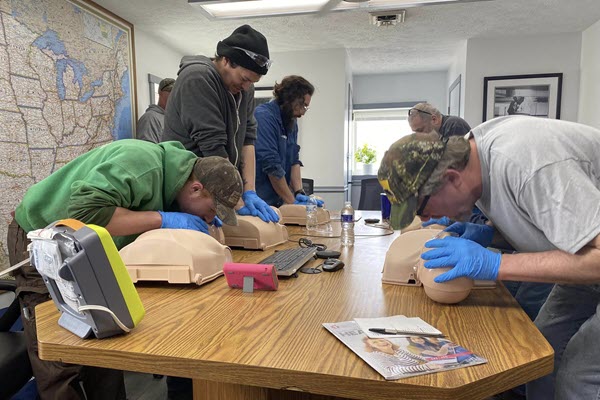 Steps for Performing CPR:
1. Tap and Shout. Shout for help.
2. Phone or send someone to phone 9-1-1 and get an AED.
3. Look for no breathing or only gasping.
4. Push hard and fast in the center of the chest. Give 30 compressions.
5. Open the airway and give 2 breaths.
6. Repeat sets of 30 compressions and 2 breaths.
7. When the AED arrives, use it immediately. Turn it on and follow the prompts.
Employee Fire Safety Training
We also had representatives from Fox Valley Fire and Safety come and conduct a Live Portable Fire Extinguisher Training.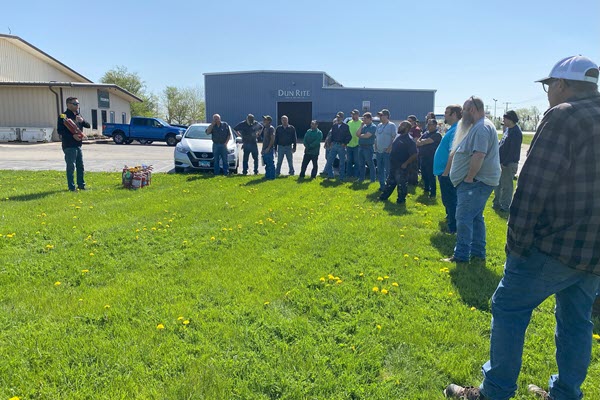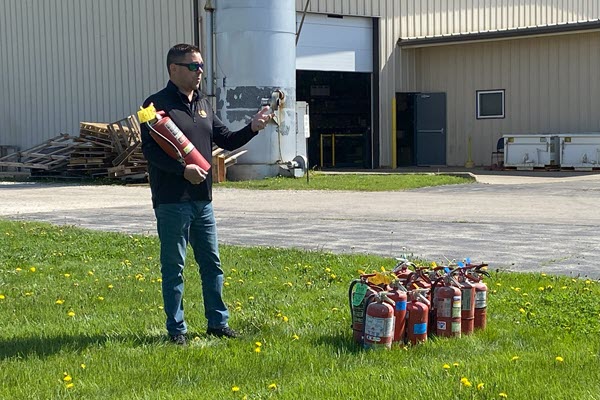 The crew from Fox Valley Fire set up a fire pit out in the field next to our office and taught us all how to properly use a fire extinguisher.
There is a simple acronym to remember to operate most fire extinguishers – PASS.
PASS stands for Pull, Aim, Squeeze, and Sweep.
Each Cresswood employee got to have hands-on experience by putting out a fire one by one, preparing each of them for applying the skills and tools needed as they are working on new and used machine shredders and grinders within our facilities.
At Cresswood Shredding Machinery, we are focused on the health and safety of our team, and we take pride in committing to training our employees on these potentially life-saving skills. If you are looking for world class industrial grinders or shredders or you would like to work for a family-owned business that values the health and safety of its team members, contact us today.