SERVICE & SUPPORT
We're passionate about supporting our customers. We believe great service and support starts with listening. That's the reason more than 40% of our business is repeat customers. We understand that downtime is costly, which is why our support staff is committed to rapid responses and expert advice. With in-house, in-stock access to every part you could ever need, you can rest assured the Cresswood team will keep your operation running for years to come. Plus, total cost of ownership is minimized by our commitment to making costly downtime as short as possible.
Learn More
EARNING YOUR TRUST
Long term business relationships are built on trust, and our customers know we've earned it. Expert technicians, in-house parts availability and immediate response times are how we make sure our customers get the on-going service they've come to expect with Cresswood. Not only are our grinders and shredders designed to minimize the time required for maintenance and wear parts change-outs, but we have service, support, and parts available for every grinder and shredder we've manufactured, ever.
YOUR TEAM OF EXPERTS
The Cresswood team of factory-direct service technicians know our shredders and grinders inside and out. From installation support, personnel training, to mission-critical field repairs, our experienced technicians will ensure your operation is up and running at peak performance and maximum efficiency. Cresswood requires over 4 years of training for service technicians, keeping them in the top tier of the industry.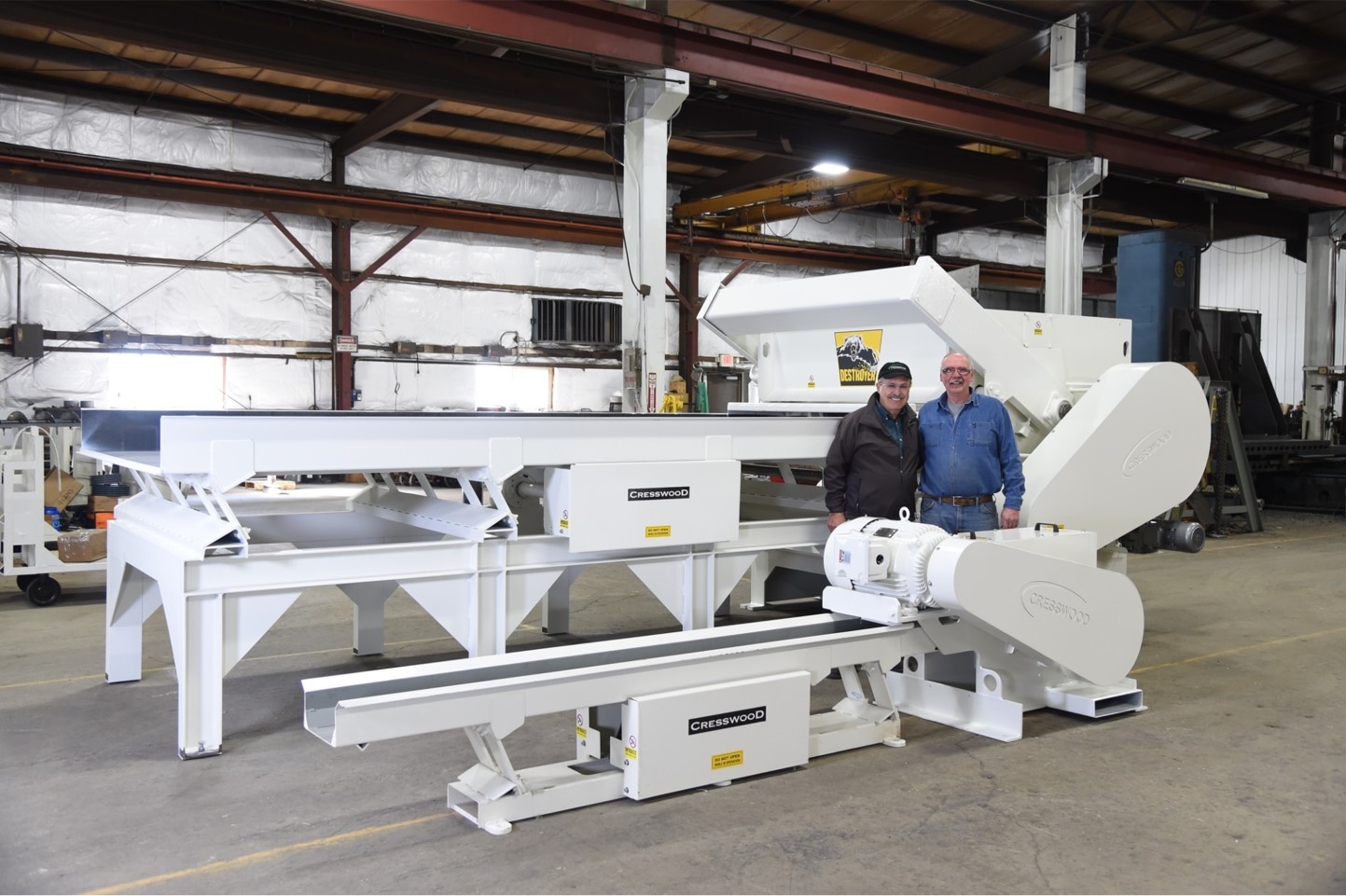 There's no such thing as an easy decision when it comes to making a large capital equipment purchase. Decision makers are not just looking at the up-front quality, price, and performance of the equipment, although those certainly do play a big part. Smart decision makers are equally concerned about the long-term ROI of their asset, and on the total cost of ownership of the equipment over the long-haul. In other words, they ask themselves "How well does the manufacturer stand behind their equipment over the years? How will they protect me and my business when (not if!) there's a breakdown and I need service, parts, and tooling fast to minimize the impact on my operations?" The Cresswood advantage is doing business with an industry leader who proudly manufactures quality American-made equipment, parts, and tooling right here at our midwestern facility in Cortland, Illinois.
Cresswood also offers fantastic tooling incentive programs that dramatically lower your costs of operation and ensure you always have the tooling on-time and in-sync with your maintenance schedules. As an added bonus, signing up for these programs also automatically gives you a 10% discount on all Cresswood manufactured parts!
When you partner with Cresswood, you have the assurance you're getting the best up-front value in an industrial grinder from a company who has earned a solid reputation for exceptional quality and dependability. Did you know that Dun-Rite Tooling and Cresswood Shredding Equipment are owned by the same parent company? This means when you make the decision to partner with Cresswood, you are leveraging the combined knowledge and experience of both companies, thus lowering your total cost of ownership and providing you VIP access to truly innovative solutions.
Doing business with Cresswood gives you the peace of mind knowing that your service, parts and tooling will arrive promptly in a matter of days, not several weeks like some of the overseas equipment manufacturers. This keeps your operations humming along year after year, minimizing the huge expenses and headaches of extensive downtime waiting for your replacement parts to arrive. Our team has over 160-years combined experience servicing low-RPM single-shaft industrial grinders, a depth of knowledge available to you for the life of your machine, always standing by to resolve any issue quickly, accurately, and professionally. At Cresswood, a down machine is ALWAYS our highest priority!
The Lock-Out-Tag-Out (LOTO)
(LOTO) procedure is the most important part of any maintenance task! Failure to follow proper LOTO procedure is the cause of hundreds of needless work-related injuries and deaths every year. Our senior service tech walks you through the process of neutralizing the energy source so that the Cresswood Industrial Grinder can be worked on safely.
Screen Installation – Best Practices
In this short video, Bill provides clear step-by-step tutorial on the safe and accurate positioning and installation of screens. Demonstration is done on a Cresswood HF40 for a paper application. Two (2) modular 20" segments combine to cover the entire length of the V-Rotor cutterhead to maintain consistent output size. Operator-friendly mounting design and slick technique from a Cresswood pro allow one operator to easily accomplish this maintenance task in minutes.
V-Rotor Holder Replacement
One of the most critical maintenance tasks in keeping your Cresswood Industrial Grinder operating at peak performance is proper identification and replacement of damaged tool holders. This video is specific to the V-Rotor cutterhead design. Bill walks you through the proper process to ensure the job is done safely and correctly. Necessary tools, Preparation, and weld technique are all covered, along with tech tips from a senior field service pro.
Proper Setting of Ram Guides on Cresswood HF-Series grinder
A critical maintenance task that will prevent premature wear of the moving ram and floorplate. Bill explains the purpose of the ram guides and walks you through an easy to follow, step-by-step tutorial on setting the guides to factory-new condition.
Changing Anvils on HF Machines
This tutorial covers how to properly rotate or install anvils, a critical component of maintaining high output on your Cresswood Industrial Grinder. The demo is done on an HF machine with a Destroyer head, and the standard technique can be applied to other HF series and EF series grinders as well. EVERNEW technology and cost-effective modular tooling segments can be seen in this video, where Bill gives you tips and tricks from a seasoned service pro. A second operator is necessary to complete this service task.
Changing or Rotating Inserts
One of the primary and most important machine PM's is timely rotation and/or replacement of cutting teeth or inserts. Bill describes the tools you need and how to know when your inserts need to be changed. The tutorial walks you through the safe and proper technique to do this task quickly and accurately and get the most service life from your tooling. Maintaining sharp cutting teeth keeps your machine producing at peak performance and also eliminates excessive heat and friction in the grinding process.
Changing Anvils on EF Machines
This tutorial covers how to properly rotate or replace the anvils in an EF model Cresswood Grinder, a critical component in maintaining high output on your machine. The procedure for rotating or replacing the anvils are the same across all models, but this video addresses the unique challenges associated with working on our horizontal or "EF" models. In this video, Bill gives you tips and tricks from a seasoned service pro. A second operator is necessary to complete this service task.