In order for our company to continue to build and grow, we are always looking for ways to foster a culture of constant improvement as an American made industrial shredder company.
One of the things that we believe is stunting our growth is the amount of clutter that we have accumulated over the last 60 years we have been in business. The amount of clutter has taken up ample space for things that we need to use to be successful on a daily basis.
We partnered with the Illinois Manufacturing Excellence Center out of Peoria, IL (also known as IMEC) to teach us how to organize our workspaces using the 5S Program.
Since 1996, IMEC has been delivering hands-on technical assistance and strategic advisement to help small and mid-sized manufacturers to be more productive and competitive in the global market.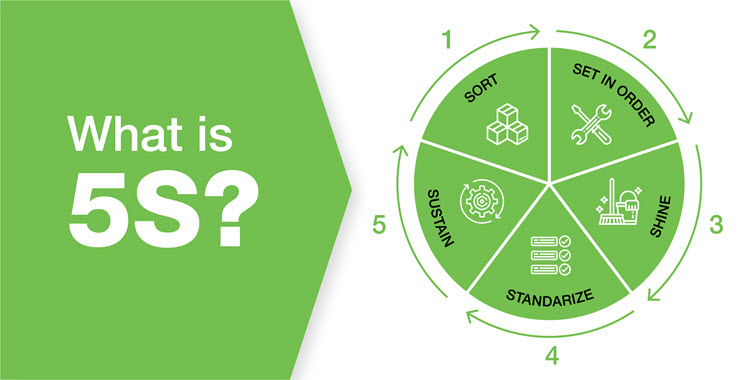 5S is a five-step methodology for creating a more organized and productive workspace:
Sort
Set in Order
Shine
Standardize
Sustain
5S serves as a foundation for deploying more advanced lean production tools and processes. The main focus is to look at a company's manufacturing processes to see where waste can continuously be eliminated. The result is maximized efficiency, improved quality and safety, and the elimination of unneeded movement and excess inventory.
This map is demonstrating one of our fabricators' (Matthew Cornell) working path prior to IMEC 5S which caused him to waste a significant amount of time and energy to effectively do his job each day in the Fabrication Shop.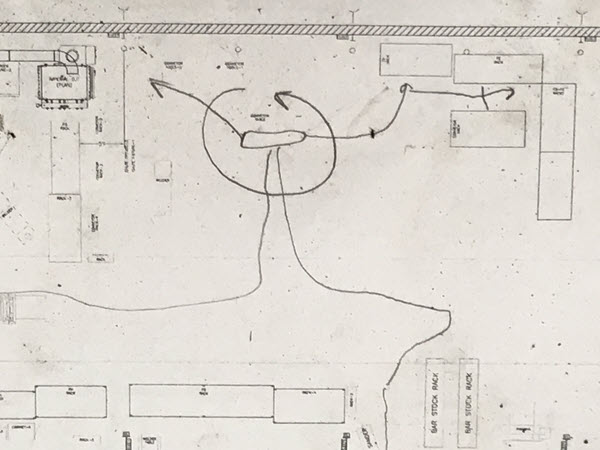 Benefits of 5S:
Improved space more efficient production
Increased areas for staging and incoming items
Safer work environment (in general)
Better shop floor appearance
Foundation for other improvements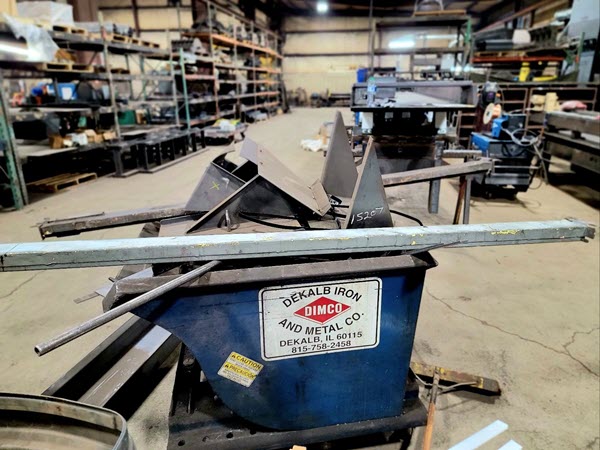 The 5S Continuous Improvement project focused on refinements to our conveyor fabrication work area, creating greater organization, visual management, product staging, and material flow when our fabricators are working on used machine shredders that have been traded in or brand new world class industrial shredders and grinders that are being manufactured.
There were many things that needed to be addressed in this area: clutter, lack of space for staging, obsolete items were taking up space and it was a dusty area in general from welding that takes place in that workspace.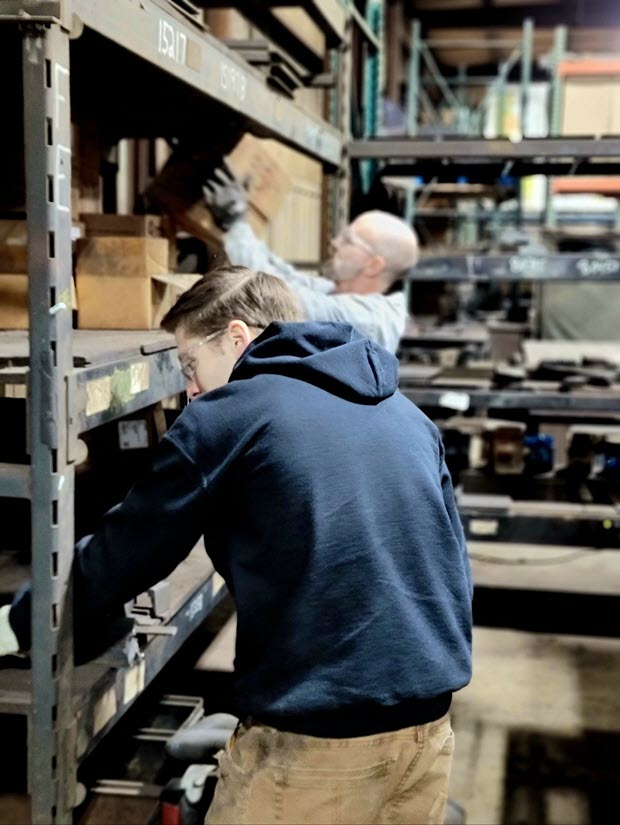 A small designated team of Cresswood Employees helped with this process over a two-day period. That team completed: sorted through and out every square inch of the area, removed clutter, swept under the welding table, removed and eliminated excess material, decluttered and organized work benches, consolidated parts into a smaller storage area, and eliminated an entire shelving unit which opened up more space to stage completed conveyors which would help keep shop floor walkways open.
Before and After in the Fabrication Shop (Conveyor)
Organization of Parts 
Getting Rid of the Clutter and Creating Space for Staging
To ensure that the space stays clean, staff put a plan in place:
1. Clean up work area as you work
2. Spend 30-45 minutes every Friday for clean-up (trash, sweep, organize shelves, etc.)
3. Run Factory Cat Industrial Floor Cleaner monthly through aisles and clean bay areas
After seeing the positive effects that the 5S Program had on the Conveyor Area in the Fabrication Shop, we plan to use the program in other areas of our workshop until it's completely reorganized.
At Cresswood Shredding Machinery, we are focused on continuous improvement in all that we do. As we continue to maximize efficiency, improve quality and safety, and eliminate unneeded movement and excess inventory, our American made industrial shredders and grinders will continue to stand out above others in our industry. If you are looking for world class industrial grinders or shredders or you would like to work for a family owned business that values teamwork and continuous improvement, contact us today.