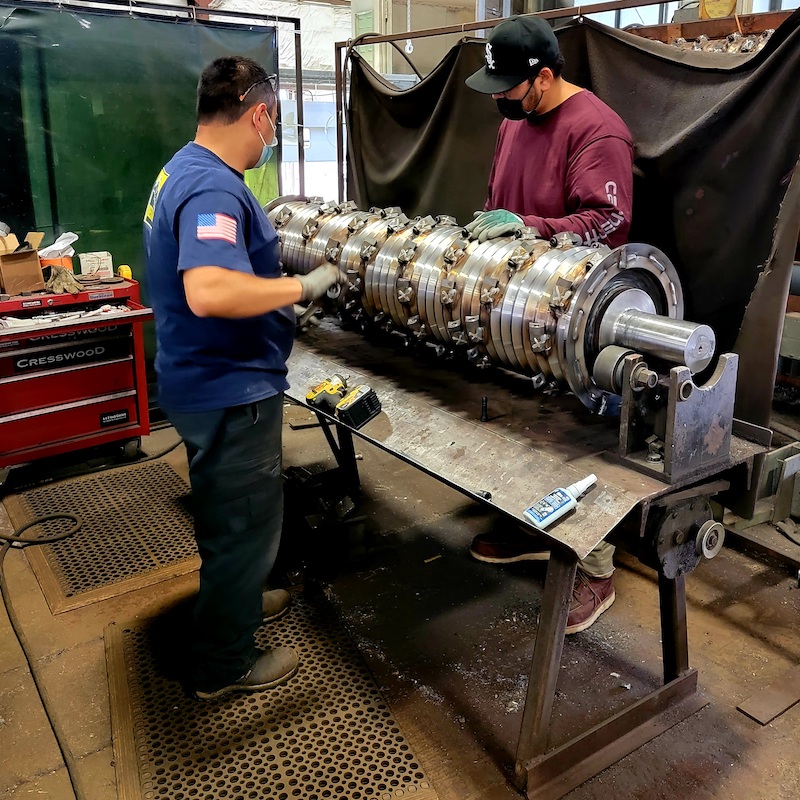 Moises Pizano was hired in August as an Assembler Trainee. He is pictured here working with our senior assembler Alejandro Martinez, putting together a 16″ diameter cutterhead for a new XR600. Cresswood uses a mentorship model to teach new employees critical skills, passing along years of working experience while also strengthening our team-based culture. The mentorship training model allows new employees to learn quickly and safely, helping to quickly put best practices to memory. The new employee begins by watching the senior technician and then is coached by their mentor as they put what they learn to practice.
Moises, or "Mo", has a very interesting story. His grandfather Benito Alamia worked for Dun-Rite Tool and Machinery back in the 1970's when Jack's dad ran the company. Benito was a talented welder at a time before the company was producing grinders, back when it was a job shop. Mo's uncle Armando Alamia also worked for Dun-Rite, serving as a supervisor for several years.
Mo is currently enrolled in the Basic Welding Certification course at Kishwaukee Community College. He hopes to follow in his grandfather's footsteps by putting his welding skills to work here once his certification is completed. Cresswood is all about employee learning and development, and will be covering the costs of his tuition upon successful completion of the welding program.