"Waste is just another resource waiting on alternative thinking to arrive."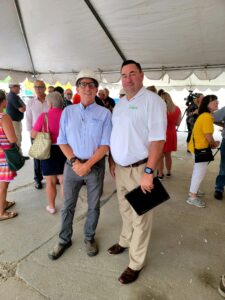 ~ Dale Gubbels, CEO First Star Recycling
On Thursday July 29th, Cresswood was there as First Star Recycling and the Alliance to End Plastic Waste held a ribbon cutting ceremony commemorating ground breaking on their innovative Hefty Bag Initiative project.
Founded in 1997 with the mission of enhancing Nebraska's recycling infrastructure, First Star Recycling currently employs over 110 people at its Omaha and Lincoln operations. The company is known for cutting-edge technology and innovative processes and recycles over 100,000 tons annually for businesses and communities throughout the Midwest.
Since 2019, Alliance to End Plastic Waste has rallied and helped fund over 80 member companies, project partners, and supporters who share a commitment to ending plastic waste in the environment. They bring together a diverse network of resources and expertise who work together to create and scale innovative recycling solutions around the world.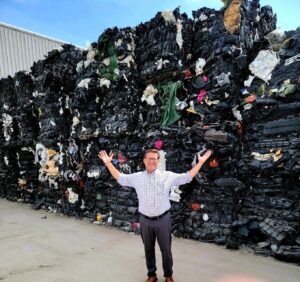 First Star and its CEO Dale Gubbels are passionate about making it easier and more economical for Nebraska and Iowa citizens to recycle and improve their waste management processes. Dale points to the Native American concept of 7-generation stewardship as a model for a sustainable future. He believes that our actions today should be shaped for the benefit of those who will inherit this planet 150 years from now. This is an admirable goal and one that is shared by Cresswood Shredding Machinery. It is this shared vision for helping create a sustainable future that led First Star to choose Cresswood as a partner in making the Hefty Bag Initiative a reality.
The concept of the Hefty Bag Initiative is twofold: One, to educate household consumers and businesses on recycling best practices, and Two, creating an efficient and profitable circular economy model for recycling previously unwanted plastic materials. Consumers are given orange plastic bags and educated on specific types of plastics to collect in them. These special bags are then brought to the facility in Omaha for processing. In the new expansion project First Star will officially become a manufacturing facility, transforming the waste collected in the orange bags into 100% recycled material plastic lumber. This lumber will be used in the construction of patio furniture, decking, and other valuable consumer products. This 100% recycled material has a higher strength and much greater longevity than traditional lumber, something that makes it even more marketable to increasingly environmentally conscious consumers.