Cresswood is constantly exploring how our products and services can help other companies be better stewards of their raw materials, and this year we took it a step further. We attended PACK EXPO in Las Vegas, NV, a large packaging trade show we had not exhibited at before. PACK EXPO Las Vegas brought together packaging and processing solutions suppliers and end users from 40+ vertical industries, including the pallet, plastic, wood, and paper recycling shredders manufacturing industry. Exhibitors launched products, showcased their latest innovations, and problem-solved with customers. Attendees explored thousands of packaging and processing technologies on display and discovered game-changing solutions to their packaging and processing challenges.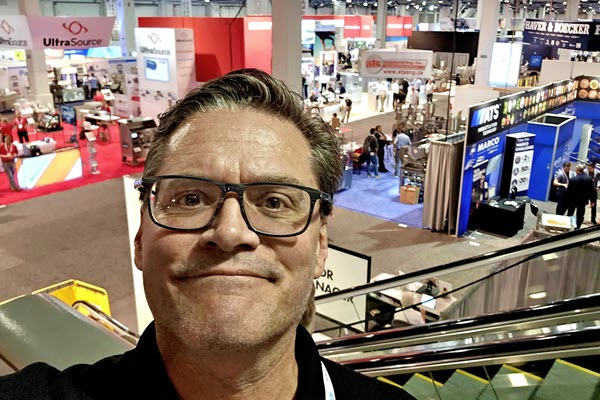 Who Exhibits at PACK EXPO Las Vegas?
Companies looking to connect with buyers from consumer packaged goods and life sciences companies exhibit at PACK EXPO Las Vegas. They are manufacturers and suppliers of:
Automation, Controls, and Related Components
Packaging Equipment/Machinery (like Cresswood's American made industrial shredders)
Packaging Materials and Containers
Food and Beverage Processing Equipment/Machinery
Packaging Services & Supplies
Life Sciences Processing Equipment/Machinery
Chemicals
Top 10 Technologies Most in Demand with Attendees
On past year's registration forms, attendees indicated they were most interested in:
Bagging, Pouching & Wrapping Equipment
Cartoning, Multipacking & Case Packing
Coding, Labeling & Printing Equipment
Conveying, Feeding & Handling
Filling, Capping & Closing
Inspection & Testing Equipment
Materials, Containers & Consumables
Material Handling & Warehousing
Palletizing & Load Stabilization
Processing Equipment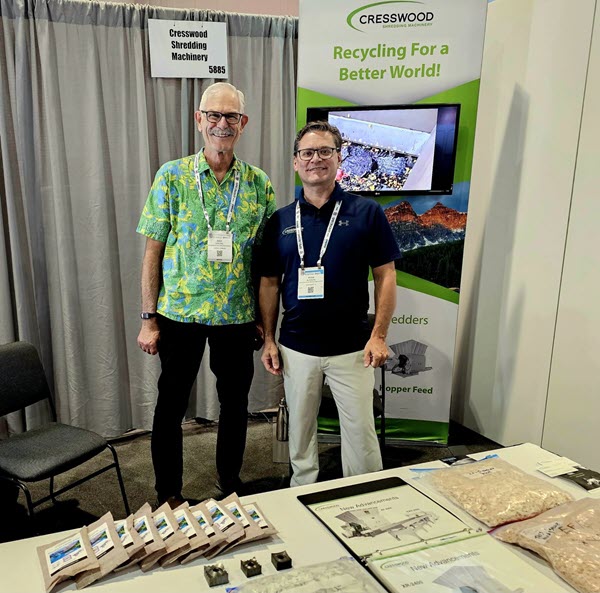 Cresswood found the experience invaluable for our American made Industrial shredder and grinder company, and we met with several existing customers to continue our relationship building with them, including Rehrig Pacific Company, UFP Packaging, and 48forty Solutions.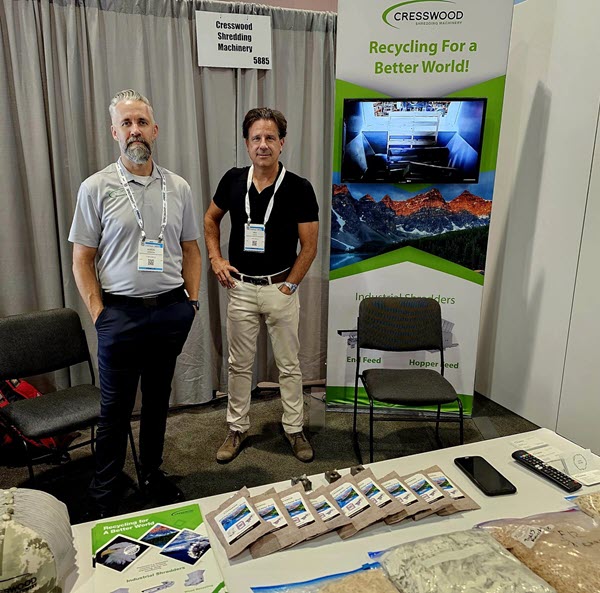 Our Cresswood Sales Team also had the opportunity to reconnect with partner vendors such as Bunting Magnetics, Eriez Magnetics, and Ensign Equipment Inc. Industry leaders from the pallet, paper, and plastic industries were all in attendance, including Rick LeBlanc, a renowned writer for Reusable Packaging News, a publication covering supply chain, reusable packaging, and pallet industries.
Next year's Pack Expo show will be in Chicago, and we are very excited about expanding our presence for this trade show now that we see it is a great fit for Cresswood and our solutions.
Rooted in the heart of the Midwest, Cresswood stands as a proud, family-owned enterprise deeply committed to making the world a better place through recycling. For decades, we have harnessed our expertise in designing, constructing, and installing cutting-edge industrial shredders. These powerful machines are engineered to tackle a wide spectrum of materials, from paper to plastic, pallets to wood, with precision and efficiency. With every shredder we create and install, we take a step closer to a world where waste is transformed into valuable resources, and Cresswood is honored to be at the forefront of this vital journey.
If you are looking for American made industrial shredders built to last, contact us today. We offer financing options through our smart investment solutions that are designed to maximize your cash flow.