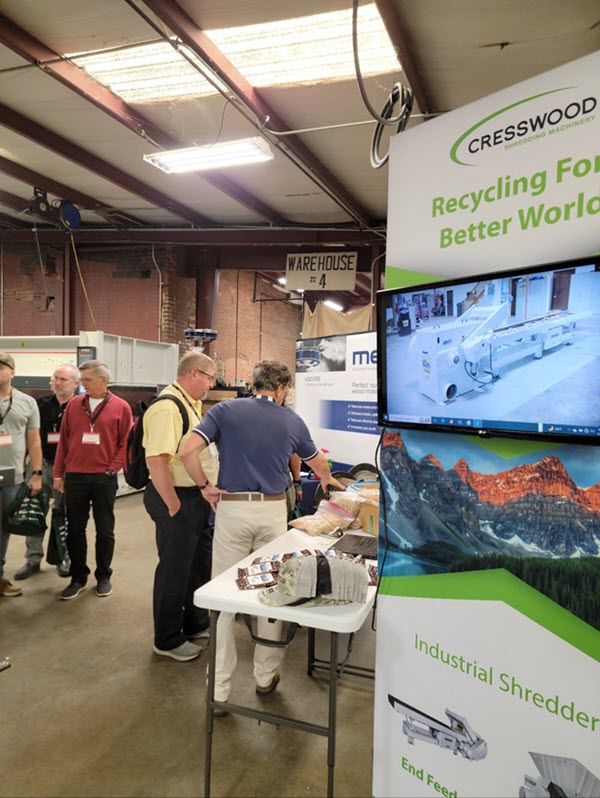 Over the past 30 years, Cresswood has built a strong reputation in the woodworking industry by building world class industrial grinders you can depend on for applications in cabinet shops, flooring plants, and fine millwork shops. For more than a century, Hermance Machine Company has been providing top-quality industrial machinery and accessories to companies of all sizes. Hermance has been in business since 1902 and has a staff of highly skilled technicians who can answer just about any question about industrial or woodworking machinery. Hermance has been a dealer for Cresswood for decades, and our shared knowledge of the industry along with a focus on customer satisfaction make this a winning partnership.
Cresswood was an exhibitor at the annual Hermance Open House in Williamsport, PA in May. We featured our most popular wood recycling shredders model in the woodworking industry, the EF24-40SR ST. What made this year's event truly exceptional was the integration of equipment from different manufacturers. This allowed visitors to see "real-world" scenarios of innovative woodworking equipment under power and processing material in a shop setting.
The Cresswood EF24-40 was set in a cellular manufacturing setting alongside Cameron Automation's high-production rip saw system. Wide boards from a large bunk of raw maple stock were quickly scanned and then accurately ripped into thinner segments by a series of 4 adjustable saw blades. The controls allow the operator to specify the widths required for each board while the scanner positions the material for best utilization. Long, thin edgings are produced alongside the finished product, presenting a waste material handling challenge that is highly labor intensive. By integrating a Cresswood horizontal wood grinder into this production setting, the material that is an unavoidable by-product in a rip saw operation is effortlessly disposed of via a hand's-free vibratory feed system. Not only was the long and awkward material ground into a small, uniform chip, but the output from the grinder was also then delivered into a Nederman baghouse thanks to the air hookup configuration on the Cresswood world class industrial grinder. This example of the integration of a wood grinder represents a real labor savings opportunity for companies in the secondary woodworking industry. It also demonstrated a very clean method of disposal that eliminates the hazards created by generating fine wood dust into the environment.
The cabinet makers and millwork producers who attended the show were able to see with their own eyes how a world class industrial grinder can improve their operational efficiency. We had the privilege of speaking with many existing customers, like Newell Coxon Jr. of PennWood Products. He operates an EF36-50 horizontal machine we delivered in 2013, as well as a XR500-75 hopper-fed unit built in 2008, demonstrating the high-quality engineering and design that Cresswood puts into the designing and manufacturing of their American made industrial shredders and grinders. Newell thanked us for supporting his business and always standing behind the equipment we sell with excellent parts and service. We also met with Cody Wolfe of Antique Building Solutions and Enos Stoltzfus of Pioneer Woodcraft who were both interested in quotes for small horizontal grinders thanks to what they saw us demonstrate at the show.
Finally, just having the opportunity to build and make new relationships with other equipment manufacturers and the entire Hermance staff is by itself well worth the trip for Cresswood. Max Fadin, from our Sales Team, and Cresswood's President, Ryan Butzman were able to spend hours with Gordon Burdis the president of James L. Taylor and Cameron Automation. Opportunities like this allow us to strengthen our partnerships and our working knowledge of how equipment can complement one another in woodworking applications and provide even greater value to potential customers. Max and Ryan were also able to talk face-to-face with the entire Hermance sales and support staff, led by Lee Chilson, further strengthening our bond as a world class industrial shredder and grinder manufacturer and dealer.
Cresswood Shredding Machinery is committed to recycling for a better world and continuous improvement, continuing our strong reputation in the woodworking industry. We understand that purchasing capital equipment is a big decision, and we have smart investment solutions designed to maximize your cash flow. If you are looking for American made industrial shredders built to last, contact us today.