Cresswood Shredding Machinery is excited to introduce our newest hire, Sawyer. She is pictured here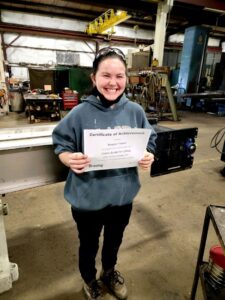 proudly showing off the rigging certification she earned from Crosby's online training program. Sawyer will be working in our assembly department and she brings a lot of value to the table. She has earned both Basic and Advanced Automotive certifications from Kishwaukee College in Malta, Illinois and is currently enrolled in their Advanced Welding Certification course. Cresswood values and supports our employees in pursuing their personal development, and we will pay 100% of Sawyer's tuition upon successful completion of the welding coursework. What adds to our excitement is real evidence we are getting women involved in our manufacturing operations! Without opening up these kinds of opportunities to female candidates, the math simply doesn't add up for today's manufacturers seeking to fill critical skilled positions. It is also a fact that diversity creates more innovative cultures, and we look forward to the fresh perspective and passion that Sawyer brings to the organization.
In today's super-competitive labor environment where employers nationwide are struggling to fill thousands of skilled manufacturing positions, having a strong relationship with your local community college is incredibly important. On one hand, you are providing young local talent with an employment opportunity right where they live, go to church, and shop. This is absolutely vital in creating and sustaining strong local economies, the true backbone of our democracy. On the other hand, you develop a critical talent pipeline into your organization. Cresswood will soon be celebrating 60 years of being in business, and it is people like Sawyer who will represent the next generation of employees who will carry the business into the future.