Cresswood Shredding Machinery continues its strong tradition of being the premier supplier of grinding solutions for pallet recycling and manufacturing companies across the country. Our passion is helping them improve their profitability and stewardship of raw materials by providing true turn-key wood recycling solutions.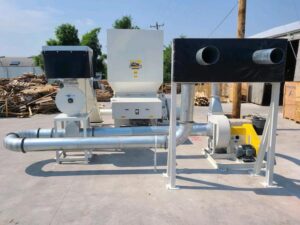 Repeat business is the best indicator for customer satisfaction and proof of providing outstanding service and solutions on the market. Pal-Serv is a national leader in pallet recycling and service, and we are proud to be their vendor of choice in industrial grinder solutions. Cresswood's wood pallet shredding machine, the XR700 with magnetic separation and trailer loadout is their third pallet recycling system purchased since the company was founded in 2009. We've partnered our unparalleled industrial grinding expertise with Boulware Equipment LLC to provide Pal-Serv's Oklahoma City location with a true turn-key pallet recycling system.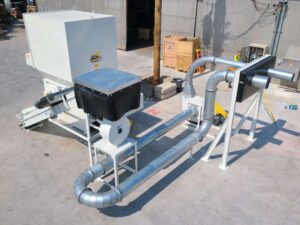 Cresswood's XR700 150HP hopper-fed pallet grinder is paired with an industrial outfeed conveyor that includes magnetic separation. This is where 99.9% of all metal contamination is removed from the ground wood waste, a process that makes this end product a valuable commodity on the open market. The clean wood waste is then distributed into a powerful air system provided by Boulware LLC that vectors the chips into an easy to operate trailer loading system.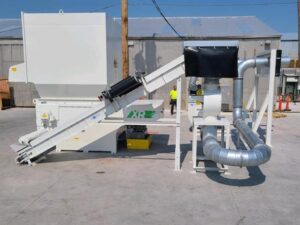 In partnership with Boulware Equipment LLC, we can offer a robust and dependable pallet recycling system along with an extensive network of chip outlets and fleet of trailers, taking the guesswork out of one of the biggest questions our pallet customers have, "so what do I do with the output?". Companies like Pal-Serv understand the ROI of the recycling system and how it creates a long-term revenue stream for their business. They love the ability to sign up for this service without having to connect all the dots in the process themselves. This is a great way for us to provide a truly exceptional customer experience with very little investment on the customer side in engineering, logistics time and resources.