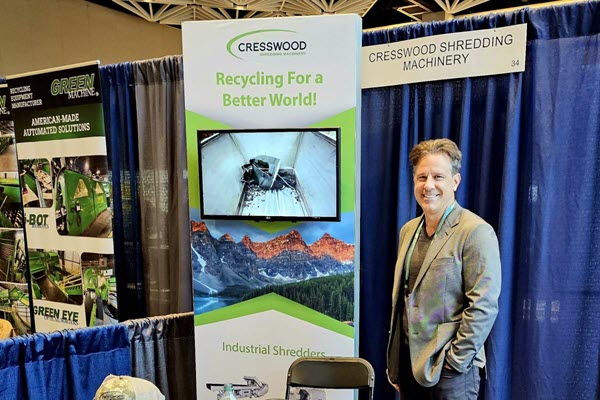 Cresswood Shredding Machinery has always been associated with the highest quality American-made industrial wood waste and pallet recycling shredders and grinders. Our products do equally well in serving the needs of paper and plastic applications, and there has been a strong effort to expand our brand presence and reputation into these industries with our paper recycling shredders and plastic recycling pre-shredders. Attending this year's Paper and Plastics Recycling Conference (PPRC) in Chicago is one way Cresswood can execute that strategy and promote itself to paper and plastics recycling industry leaders. With well over 700 attendees, this is a conference where people in the industry come together to learn from each other on how to address the biggest challenges and opportunities facing the paper and plastics recycling sector.
We had the privilege of reconnecting with many familiar industry partners, including Ken Ely and Bret DeCamp of Ely Enterprises based in Lorain, OH. Ely is one of Cresswood's strategic dealers in the paper recycling space, a well-respected supplier of new and used recycling and waste handling systems since 1981.
Max Fadin and I were also in contact with prospective clients looking for solutions to their waste recycling needs, like Marty Davis of Midland Davis Corporation in Moline Illinois, a leader in the Midwest with over 130 years of experience in the recycling industry. Marty wanted to upgrade their dated system and learn more about Cresswood's advanced solutions. As is always the case, Midland Davis is constantly seeking ways to cut internal costs associated with material handling and disposal and saw the real ROI in the innovative paper and plastics recycling solutions we provide.
I also connected with current Cresswood customers, including Lee Cornell of Firstar Recycling in Omaha, NE. Lee was one of the featured speakers at the event, and they have one of our first plastic film recycling shredders at their facility. Lee said they "could not be happier" with the equipment. Our equipment acts as the primary shredder in an integrated system where they create much-desired, high-quality pellets from post-consumer plastic waste.
At Cresswood, we are committed to staying at the top of the industry for innovation while continuing to build valuable relationships with the other paper and plastics recycling industry leaders at conferences like the Paper and Plastics Recycling Conference (PPRC). If you are interested in learning more about Cresswood Shredding Machinery, contact us today!