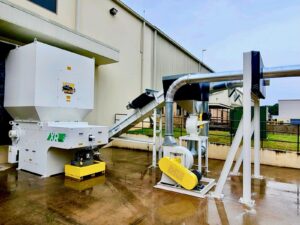 Cresswood is excited to show off our latest pallet recycling installation showcasing the new XR600. In partnership with Boulware Equipment LLC, we've provided this pallet customer in Georgia with a true turn-key recycling solution for their wood waste.
The heart and soul of this system is the safe and reliable Cresswood XR600. This quality American-made grinder is powered by a robust 75-HP drive, and the stout 16″ diameter Destroyer Head rotor makes quick and efficient work of heavy stacks of unusable pallet cores and waste. This unit is capable of generating up to 3-ton/HR output and built for years of dependable service in one of the toughest applications around.
The uniform ground output is conveyed out via a screw-auger discharge and onto an inclined belt conveyor, where a powerful cross-belt separation magnet removes 99.9% of all metal fragments and deposits them into a side container for an additional recycling benefit.
The clean, uniform chips are then vectored into a powerful rotary airlock that feeds the trailer loading system for a clean, hands-free, and dependable solution to recycle all your pallet wood waste.
Best yet, this clean output is certifiable and a desired commodity for use as bedding, mulch, composite filler, or boiler fuel. Boulware Equipment has trailers and a broad network of established chip outlets around the country to take on your zero-waste initiative and make it a reality.
This beautiful setup is ideal for pallet recycling and relieves the painful monthly spend on increasingly expensive transport and tipping fees, while also providing a practical return on the investment for an on-site grinding solution.