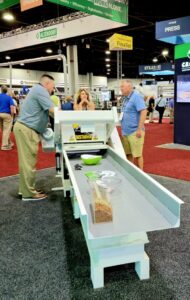 The International Woodworking Fair (IWF) is by far the biggest trade show event for the Cresswood team. With nearly 1,000 exhibitors, 13 exhibit halls, and 1.4 million square feet of floor space, it's an event we all look forward to — and a must-visit for our crew!
We packed up in August to visit the Georgia World Conference Center alongside 70,000 other attendees. There were hundreds of different craftsmen serving dozens of different niches, from architectural woodwork and custom cabinetry to hardwood flooring and hand-crafted furniture.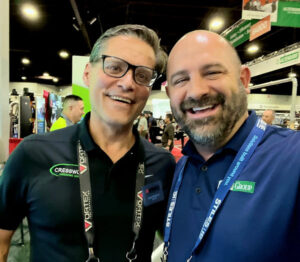 The Cresswood team had a blast connecting with faces both old and new. With relationships spanning 30 years in the manufacturing and woodworking industries, we enjoyed the opportunity to network face-to-face with folks all over America, like Ethan Adams, CEO of Adams Group.
Another familiar face we saw was Lowell Peterson, company CEO of Rockland Flooring. We were thrilled to hear that our grinders were a constant of quality for his business, even in spite of supply chain issues and an uncertain labor market. Dependability and service are of the utmost importance for Lowell, and we were honored that he stopped by just to say thanks — it meant the world to us!
We also made some new connections at IWF, all thanks to Mark Beaty and Mike Milsaps from Havco Wood Products. As the largest trailer flooring manufacturer in North America, Havco relies on a fleet of shredding equipment to keep their business resilient. We had met a few months before the show to spec out some equipment at their Vonore, TN location, and were excited to see them again during IWF.
Mark and Mike introduced us to Doug Dielmann, plant manager of Havco's Cape Girardeau, MO location. Doug heard about the quality of Cresswood's grinders from the Vonore team, and was enthusiastic about his improving operational efficiency with a better way to recycle wood. Today, we're in the process of quoting out multiple grinding systems that will replace his antiquated conveyors.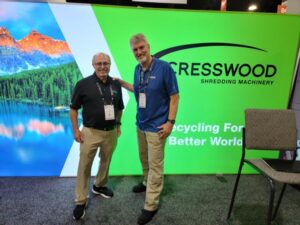 IWF 2022 was a wonderful opportunity for the Cresswood team to reflect on our professional partnerships — including the past, present, and future of our brand. We are delighted that customers are so passionate about our commitment to excellence, and looking forward to empowering our clients with bigger, better, and even higher quality products.
See you at IWF in 2024!