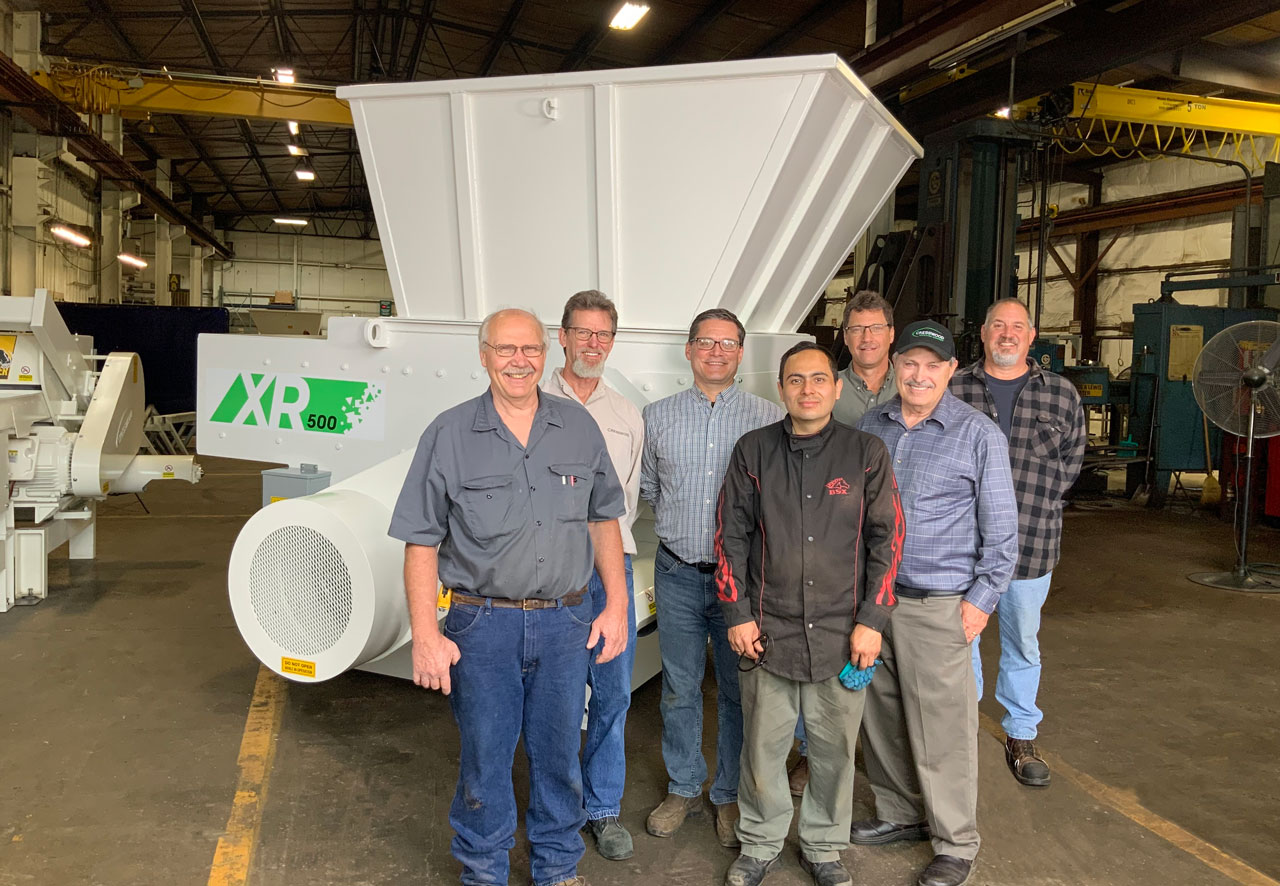 First row left to right: Jay Hawbaker Assembly team leader, Alex Martinez Assembly Team ,Jack Cress CEO
Second row: Mark Anderson vice president head of engineering, Ryan Butzman President, Steve Sarver Engineering, Greg Allison, Engineering.
Since the beginning, Cresswood's success has been built around listening to our customer's needs and tailoring quality equipment to what serves them best.  
Early in 2020, we began working on designing a new series of hopper-fed machines.  The XR500 was the first machine produced in this series.  It is a grinder specifically designed for pallet manufacturers who were reacting to rising supply chain pricing for both used pallets and raw materials.  
Listening to our many contacts in the pallet industry, we knew these price pressures had forced many companies to get more lifespan out of each and every pallet core they had.  We saw that there was more emphasis than ever before on recycling all the useful materials on used pallet cores and only replacing the damaged components, instead of chipping up large volumes of whole pallets that were otherwise repairable.
The changes in the pallet industry pointed to the need for a new grinder designed to best accommodate this specific wood waste mix – one largely comprised of misc. pieces discarded from damaged pallets, along with the occasional whole pallet.  
Mark Anderson VP of Engineering worked with Jack Cress CEO to capitalize on this exciting improvement opportunity.  He said, "We realized early on, that with this type of waste stream mix we could amplify the system's output characteristics while also cutting production costs, a rare win-win."  New design elements of the XR500 increases active grinding time by 15%, achieving a substantially higher output characteristic with the same drivetrain and HP.  The streamlined design naturally reduced manufacturing costs associated with the system, putting it at a much better position for price-sensitive purchasers still looking for the advantages of a top-quality machine.  Cresswood also recognizes that floorspace is at a premium with pallet manufacturing customers.  To this important advantage Mark states, "The new XR500 design combines aggressive output within a smaller physical footprint, a big advantage for some of our customers as it's much easier to fit into existing production layouts without causing massive disruptions".
Although the XR500 is created to be a perfect wood waste grinder for the pallet manufacturer grinding discarded pieces in their recycling operation, it is also a great fit for the recycling of blocks, end-cuts, and other scrap material that doesn't require the larger dimensional features of a full-stroke machine.