At Cresswood, not only are we an American Made Industrial Shredder company, but we also have a mission to focus on service. We serve each other and our partners. We serve our customers. We serve our community. We are honest, reliable, we have integrity and we care.
Helping, serving, and respecting our local community is something that is very important to the Cresswood Team, and we have a program called Cresswood Cares that allows us to give back.
Each month, a different department from Cresswood selects a non-profit organization that is important to them. Based on the department's recommendation, Cresswood sends a donation. Through this program, Cresswood impacts our community and lives out our values by investing in causes supported by our teams.
Supporting the Future of the American Made Industrial Shredder Industry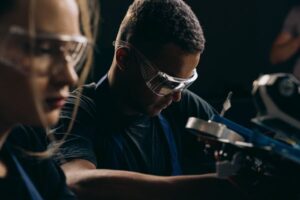 The Cresswood Machine Shop Team just recently donated to the Kishwaukee College Foundation. Kishwaukee College is a comprehensive, two-year college offering five transfer degrees and more than 70 occupational degrees and certificates. They serve 5,500 credit and non-credit students annually. Kishwaukee College plans to use the donation to go towards a Manufacturing Scholarship.
Over the past 4 or 5 years, Cresswood has built a strong relationship with the welding department over at Kish and we have hired multiple individuals from that program to work here in our shop.
Some of our employees in the shop wanted to donate scholarship money to the Kishwaukee College Foundation so that future manufacturers had the opportunity to learn and grow in the American made industrial shredders industry.
Giving Back to Families Whose Children Are Hospitalized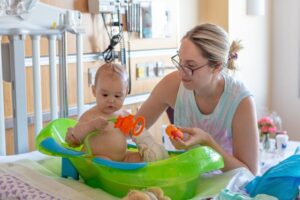 In February our donation went to the Ronald McDonald House Charities of Chicagoland and Northwest Indiana.
The Engineering Department chose the Ronald McDonald House because the Cresswood Team just welcomed a new addition to the Cresswood Family in February. Engineer Jeff Lauher and his wife, our part-time receptionist, Meghan Downing, welcomed a beautiful and healthy baby girl. The donation to the Ronald McDonald House is to help families that may need additional assistance if their child needs hospital time so that they can remain close.
The Ronald McDonald House provides a home for families who need a bed tonight, tomorrow, and until their children heal. Every day, families face the emotional and economic toll of having a child in the hospital. Together with the support of the community, they provide housing to keep families together, and provide a comfortable, warm, and loving home away from home.
Do you know a local nonprofit organization that could use the support of Cresswood Cares? Contact us online to connect with a member of the Cresswood team.