Cresswood is proud to feature our most recent turn-key pallet recycling installation in partnership with Boulware Equipment, LLC. In today's pallet recycling industry, just building great grinders isn't enough, we know need to provide our potential customers with a total system solution to their recycling challenges.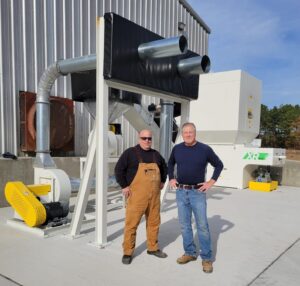 Daven Lucy, the owner of a pallet company located out on the east coast, is pictured here with Brad Boulware in front of his new Cresswood XR600-75 pallet grinder and trailer loadout system. This, Made in the USA, Cresswood Destroyer is outfitted with a heavy-duty custom enclosed hopper, and strategically positioned to accept whole pallets and waste material via fork truck thru a bay door. This is a fantastic concept to minimize the skyrocketing costs of material handling, while also maintaining efficient material flow to create a safe, clean, and organized environment within the facility's indoor production space.
Once deposited into the Cresswood industrial grinder, the wood waste is efficiently ground into a consistent particle size and then deposited onto an incline belt conveyor equipped with magnetic metal separation. This process removes 99.9% of the pallet nails and other metal fragments from the output, creating a clean and certifiable end product with real value on the open market as boiler fuel, mulch, or animal bedding. With the price of scrap steel continuing to rise sharply, collecting all the steel frags has the added benefit of generating another previously untapped revenue stream to the bottom line.
The clean and uniform wood chips are finally deposited into a powerful air system terminating at the trailer loading backstop, completing a safe, reliable, and clean turn-key pallet recycling solution. Boulware Equipment, LLC maintains a wide network of chip outlets and trailers to answer the all-important question of what to do with the chips. This partnership between Cresswood Shredding Machinery and Boulware Equipment, LLC creates a unique value offering for pallet manufacturers and distributors that is unmatched anywhere else.