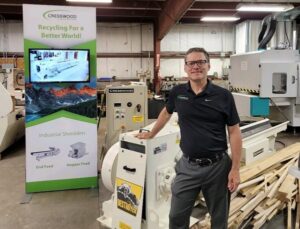 It's that time of the year again — the end of 2022 is right around the corner. In front of us lies the opportunity to reflect on the past twelve months while we begin to gear up for the season.
As leaders, we tend to be a forward-oriented breed, so it's important for us to intentionally make time for an occasional look back, reflect on the path we've traveled, and chew over our experiences and lessons learned.
Today, I want to look back on Cresswood's challenges specifically, including what they were, how they manifested, and what the future might hold.
Three Major Manufacturing Obstacles For Wood Recycling Shredders In 2022
The pallet, plastic, wood, and paper recycling shredder industry faced three challenges this year:
Supply Chain
Inflation
Labor Market
Let's explore each of these in greater detail.
Supply Chain Slows Delivery Of World-Class Industrial Grinders
2022 saw a continuation of the massive global supply chain disruptions that were brought about by the pandemic. These already serious supply side issues were further exacerbated by China's 'Zero-COVID policy, as well as uncertainty surrounding the escalating armed conflict between Ukraine and Russia.
Prior to COVID, the global supply chain was built around the availability of cheap labor and manufacturing capabilities of Chinese suppliers. The COVID policies of the Xi Jinping administration forced entire segments of the country's supply chain into unpredictable lockdowns, resulting in massive shipping backlogs and eventually stock-outs at the receiving end.
Supply chain disruptions have been particularly hard on the influx of electronics and electrical components, but in truth, have impacted nearly every sector of the economy — including wood, plastic, and pallet recycling shredders. The added uncertainty created by the conflict in Eastern Europe has caused an already fragile supply network to fragment even further. Now to end the year, there is the very real threat of a national rail strike — something that the US government had to step in and stop via legislation. This would have been absolutely disastrous to the US economy
Now, US manufacturers are heading into the new year still waiting for supply chain stabilization and relief.
Inflation Boosts The Cost Of Even Used Machine Shredders
It should come as no surprise to anyone that our industry has been riding an unrelenting inflationary cycle over the past 12 months. Manufacturers have been hit over and over again with price increases for raw materials and goods, and have struggled to keep pace as profit margins narrow significantly.
Passing along these costs to the consumer is inevitable — but this is not a decision any manufacturer takes lightly. A mistake born in haste can quickly put you out of step in the marketplace and cause a loss of market share. Even used machine shredders may be experiencing higher costs.
We can see this in many ways. The rising cost of fuel in 2022 created universal price increases from food to televisions sets to everything in between, and complicated their delivery via truck, train, ship, and/or plane. Historically high overseas shipping container prices also added to consumer sticker shock.
As we head into the New Year, high inflation appears to be here for the long-term, and the FED raising interest rates has not provided a quick fix.
Labor Market Loss Leads To Understaffed Factories
Shortages in the labor market are far and away the number one concern for American manufacturers. Everywhere I have been in 2022, I can see how the combination of rapidly rising labor costs and a war for available talent has struggling HR teams looking for answers.
Today, the available pool of candidates remains far below the number of job openings. In fact, one of the most serious scars left by the COVID pandemic is millions of working-age people, particularly men, who have dropped out of the labor force and have no interest in going back.
This is a trend that started long before COVID, and in my opinion, can be traced back to the NAFTA years and the resulting offshoring of American manufacturing to cheap labor. Good-paying blue-collar jobs disappeared by the millions in the 1990s thanks to offshoring in regions like China, Indonesia, and Mexico. Eventually, a college degree became the only legitimate route high school grads were given to a good career.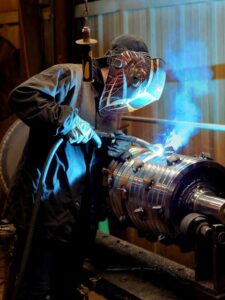 Today, many schools have shuttered their shop programs and completely neglected manufacturing as a viable career path. This has created a negative stigma around manufacturing jobs, wrongly reflecting that they are dangerous, dirty, backward, paid poorly, and set without a future. Worse still, the amazing apprenticeship programs that were around for the baby boomer generation have sadly faded into irrelevance, making the task of equipping the next generation of workers extraordinarily difficult and burdensome for today's employers.
Is there a solution? Maybe. There's lots of talk these days from politicians about 'Re-Shoring' (i.e., moving away from a global supply chain to a domestic one), but without the right number of workers, the math just isn't going to add up.
The current status of the US labor market represents perhaps the most significant existential threat American manufacturers will ever face. Automation has absolutely become a necessity for many companies in order to survive the crisis, but highly customized manufacturers are limited in their ability to embrace these technologies and need to arm themselves for the battle for skilled talent.
I feel that this is the most important responsibility for today's manufacturing leaders — to stop complaining about the mess we're in and get busy helping to solve it. Getting women involved in manufacturing and promoting opportunities for them is a key part of the solution, as well as reshoring your operations. That's why Cresswood specializes in 100% American made industrial shredders, including plastic, wood, pallet, and paper core recycling shredders.
Where We Go From Here
Challenges in the American-made industrial shredder industry are often difficult to overcome, but they are by no means impossible. I'm proud to say that Cresswood has passed over every obstacle with flying colors, and found all sorts of positive potential in the difficulties we faced.
Curious to know what these were? Stay tuned for part two, where we'll chat about our blessings, opportunities, and successes in 2022!